Proudly serving the greater Bangor-Brewer area and southern Penobscot county since 1963.
Caskets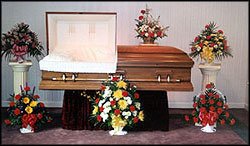 Caskets are manufactured from metal and wood and are available in a variety of finishes. Metal caskets are fabricated from bronze, copper, stainless steel and various thicknesses of steel ranging from 16 to 20 gauges with finishes available in a variety of colors. Wood caskets are fabricated from solid wood, composite wood and a combination of solid, veneers and composites. Wood finishes are offered from a light natural finish to dark walnut, cherry and mahogany finish in different grades of polish.

Since all caskets will be suitable for viewing and burial, it is important to choose one that would be within the means of the individual and one that would be appropriate for the individual.
Outer Burial Containers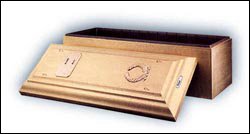 An outer burial container is an enclosure, usually fabricated of concrete that surrounds the casket in the grave. The purpose for these enclosures is to prevent the graves from continually settling and possibly collapsing as cemetery personnel open graves in different areas of the cemetery. It also allows for the use of heavy equipment for cemetery maintenance. In short, outer burial containers make cemeteries much easier to maintain.
In most areas of the country, no state or local law requires the purchase of an outer burial container. However, many cemeteries require such a container. There are two types of outer burial containers, a grave liner and a vault. In general, a grave liner will only prevent the grave from collapsing and settling. A vault will perform these same functions as well prevent gravesite elements (water and soil) from entering the container.
The Commonwealth is a grave liner with a one-piece cover but has no sealing or protective qualities. This is available for those that wish to meet the minimum cemetery requirements.
Prices include installation of vault and servicing of the cover. There is an additional charge on all vaults and grave liners delivered over long distances from the plant in Bangor, Maine and those delivered on Saturdays, Sundays and holidays.


Urns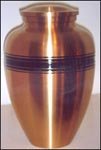 An urn is a temporary or permanent container used as a receptacle for the placement of cremated remains. Urns are designed to hold cremated remains for proper display for memorialization, for placement in the home or in a niche and for burial. They are fabricated of various materials including metal, wood, stone, ceramic, glass and cultured material and are available in many styles. Many urns may be personalized in a way that will tastefully and meaningfully represent an individual's life.
Our display represents a cross section of those that are available.

Proudly serving the greater Bangor-Brewer area and southern Penobscot county since 1963